MODEL ACTIVISTS
Are you a model interested in joining our next action?
Email your name and agency to ModelActivist@gmail.com and join 200+ models who want to help build a more just sustainable industry and world.
About Model Activist
(AKA Model Mafia)
Founded in 2017 by models Cameron Russell and Áine Campbell, the model mafia is now 200+ fashion models strong, brought together to work towards a more equitable, just, sustainable industry and world. We are a self-moderated, self-organizing group based in New York City, but with members opening hubs in Los Angeles and the Netherlands in 2018, as well as branching out into subgroups including Models of Color and Models for Sustainability. We have a lively listserv, and our community members frequently organize events from serving our local communities (doing things like gardening and beach clean-ups), to educating ourselves (through book groups and online classes), to organizing around issues we care about (e.g. working groups on ending sexual harassment and abuse in fashion). While 2017 has been a hard year for people and planet, finding a way to come together, to build a leaderful powerful community, has been an source of genuine hope and joy.
MODEL ACTIVIST X PORTER
Some of the most exciting work we're doing with Model Activist is about performance. How can we make images and tell stories in mainstream media that celebrate the collective? What does it look like to showcase community over single celebrities? In a radical portfolio in Porter Magazine we got to run FOUR COVERS featuring 17 leaders, and take group shots featuring even more leadership. See the story here.
COLLABORATORS // 1 Kouka Webb Advocate for climate justice @iamkouka. 2 Hartje Andresen Campaigner for environmental reform @iamhartje. 3 Meisha BrooksChampion of models' rights @meishabrooks. 4 Maya Monès Campaigner for trans and non-binary models @br0nz3_g0dd3ss. 5 Dominyka Gajauskaite Sustainability activist @dominykag. 6 Austria Aulloa Campaigner for diversity in the fashion industry @austriaulloa. 7 Jess Perez Advocate for fair pay in fashion @jesslperez. 8 Katharina Rembi Sustainability activist @katharinarembi. 9 Naomi ShimadaAdvocate for model diversity @naomishimada. 10 Leyna Bloom Campaigner for trans models @leynabloom. 11 Renee Peters Sustainability activist @renee.elizabethpeters. 12 Zuzanna Krzatala Activist for immigrant and refugee rights @zubizubizu. 13 Jessica Jones Campaigner for environmental awareness @jessica__jones. 14 Brana Dane Champion of animal rights and veganism @branadane. 15 Briana Holmer Advocate for holistic health @brianaholmer. 16 Trinelle Bartholomew Advocate for racial and gender justice @trinelle_bartholomew. 17 Gelila Bekele Campaigner for the education of young women @gelila.bekele. 18 Cleo Abram Campaigner for sustainability reform @cleoabram. 19 Kaye Li Taylor Part of the Model Alliance @kayelitaylor. 20 Ewa Budka Advocate for womens' rights @ewabudka. 21 Nimue Smit Ambassador for the Model's Health Pledge @nimuesmit. 22 Inga Eiriksdottir Campaigner for model diversity @ingaerla. 23 Erin WilliamsChampion of childbirth education @erin_doulight. 24 Helen Henderson Campaigner for environmental awareness @helen.s.henderson. 25 Chloe Hayward Campaigner for reform in the fashion industry @chloeahayward. 26 Áine Rose Campbell Co-founder of Model Mafia @ainerosecampbell. 27 Cameron Russell Co-founder of Model Mafia @cameronrussell. 28 Alyssa Daugherty Founder of Cahootz Model Community @miss.alyss.oc. 29 Shivani Persad Host of podcast More Than Model @liveshiv. 30 Sinead Bovell Founder of WAYE @sineadbovell. 31 Emilyne Mondo Advocate for social reform @emilynemondo. 32 Summer Rayne Oakes Campaigner for environmental justice @homesteadbrooklyn. 33 Ebonee Davis Activist for the representation of black models @eboneedavis. 34 Kenza Fourati Campaigner for ethical design @kenzafourati
Photography: CARLOTA GUERERRO
 PEOPLE'S CLIMATE MARCH
Models are some of the few women who have very direct access to media. Especially on the issue of climate change, our voices are important and powerful. Fashion is one of the dirtiest industries in the world, but it's also one of the biggest and most influential, that's why if we can change how our industry works we have the potential to make an enormous difference and lead the way to a sustainable future.
Photos by Gabriela Celeste
2017 Initiatives/Events:
raised almost 20k to support activists on the front lines at Standing Rock and in Houston
been part of 4 runway shows celebrating sustainability at the UN (led by @annetheresebengtsson), @uprosebrooklyn's climate youth justice summit, the Elizabeth Street Garden (led by @carolfontaneti and @jessica__jones), and most recently

We invested in growing our knowledge by hosting the very first #modelmafiabookclub with the author of Threadbare, participating in an Instagram masterclass, and taking part in Infinite Growth, an online course on honing a holistic vision for our lives and community.

We also invested in building that community by hosting picnics (@kayelitaylor), dinners (@branadane), and film nights (@iamhartje)!

We protested 45 together (over and over)

We rented a bus and went to D.C. to participate in the @peoplesclimate march

We told our own stories with extra special help from model/director @gelila.bekele for the huffington post, and model/media maker @cleoabram for vox, and most recently on instagram using the momentum of the #metoo moment to challenge our industry to become a safer more respectful workplace (shout out to @zubizubizu and @ainerosecampbell for organizing us to figure out what's next).

We've celebrated model entrepreneurs whose start-ups are blooming this year, like @sineadbovell, @hawa_22, @brittbergmeister, and @annetheresebengtsson.

We are going into 2018 full of potential and energy...and plans, including opening the very first European #modelmafia hub in the Netherlands led by @nimuesmit, and a hub in LA lead by @alyana, as well as sub groups dedicated to models of color and sustainable fashion.
MODEL ACTIVIST NIGHT 12/2016
The night Model Activist (aka Model Mafia) was born!
This event was about compassion -- building our power to be compassionate to ourselves and others by strengthening our community and trust in each other. It was about what would happen if we started to see ourselves not just as models, but as women in media, women with access to media, women who are powerful storytellers, performers, and change-makers.
Co-hosts: Ebonee Davis, Maya Monés, Geena Rocero, Anja Rubik, Andreea Dicanou, Nimue Smit, Ainé Campbell, Jess Perez, Kenza Fourati, Carolyn Murphy, Gelila Belke, Grace Bol, and Saabrina Jetli
120 models participated in story-telling and resource mapping exercises to kickstart community and creativity
(Photos: @globalshutter)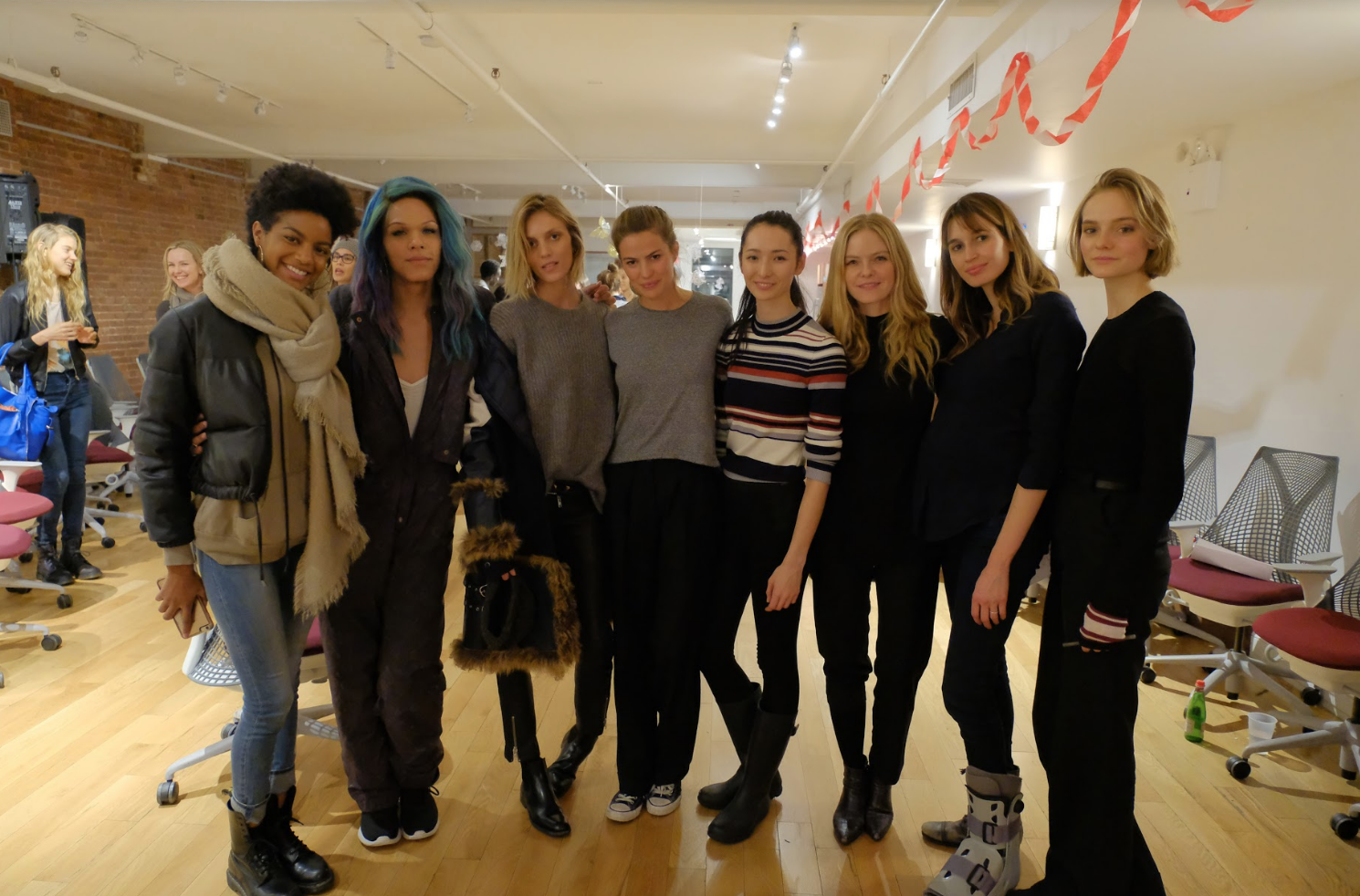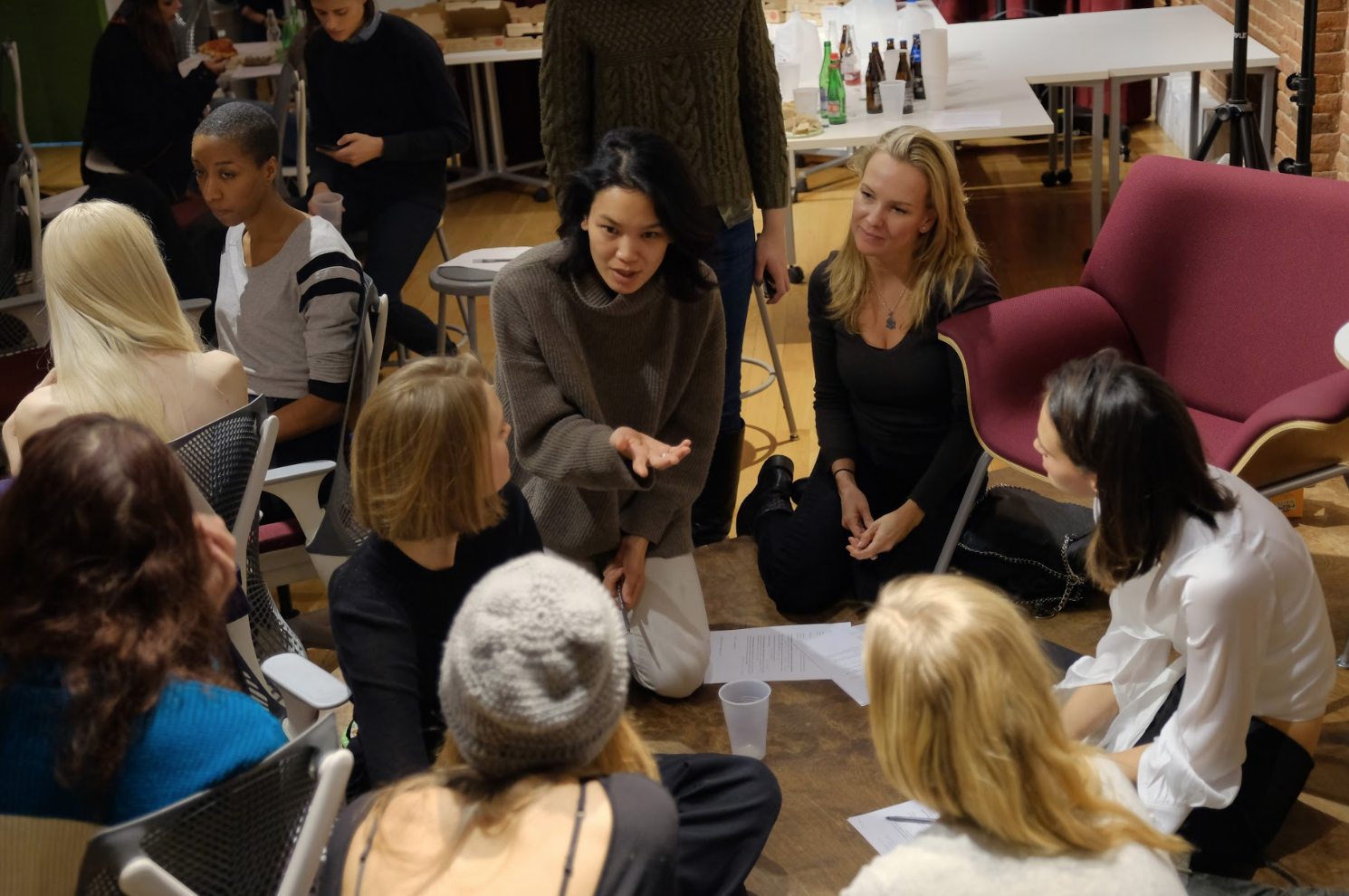 PEOPLE'S PILGRIMAGE 10/2016
17 models marched in the Brooklyn People's Pilgrimage including Lily Donaldson, Bella Hadid, Toni Garrn, Grace Bol, Arlenis Sosa, Aya Jones, Luma Grothe, Stella Maxwell, Barbara Palvin, and Irina Liss. With a combined 8 million followers, sharing their support for an international agreement on climate change spread quickly (and was picked up by i-D and Vogue). Photos: Mei Tao
EARTH DAY IN FASHION 4/22/2016
At Materials for the Arts in conjunction with NYC Department of Cultural Affairs
Models included: Hari Nef, Maryna Linchuk, London Meyers, Lana Zakocela, Inga Eiriksdottir, Aine Rose, Kel Markey, Nimue Smit, Barbara di Creddo, Alana Zimmer, Dimphy Janse, Mika Van Winkle, Dani Seitz, Chantal StanfordAbott, Briy Gilgeous, Nejilka Arias, Angel Rutledge, Laura Kampan, Marinet Mathee, Adrian John Hurtado, Sigrun and Edda
Photography: Mei Tao
Posts tagged on Instagram reached over 7.6 million people and over 800 took the time to comment

We got press in Glamour Magazine and on NY1 and on the @thecut and @instagram

New designers signed up to donate!
#EARTH TO PARIS MARCH NYC
11/2015
#LIGHT THE WAY VIGIL 9/2015
#FLOWER CHALLENGE 12/2015
In September during the UN General Assembly, together with Inez and Vinoodh, Vogue, and director Damani Baker, we profiled and photographed (holding flowers) 13 of the most influential women working to save the planet from climate change. On the launch of the biggest climate conference ever, the #COP21, we asked to show their support by posting selfies holding flowers with the text: "A reminder that life is beautiful, fragile, and connected. Post a pic with a flower and show your love for our natural world. End climate change now! #FlowerChallenge #COP21"
COLLABORATORS: Christy Turlington, Kendall Jenner, Doutzen Kroes, Gigi Hadid, Adriana Lima, Joan Smalls, Lily Donaldson, Lily Adlridge, Irina Shayk, Karen Elson, Maryna Linchuk, and dozens of others
#MARCH WITH ME 9/2014
Campaign to invite friends and followers to the People's Climate March
SUPERMODELS TAKE IT OFF FOR CLIMATE CHANGE 9/2009
Viral video rallying support for 350.orgs day of action leading up to the COP15 in Copenhagen. Learn more about this project here.
COLLABORATORS // Models: Rachel Alexander, Shannon Click, Hanne Gaby, Olya Ivanisevic, Cameron Russell, Alla Kostromicheva, Heidi Mount, Crystal Renn, Rianne Ten Haken, and Nicole Trunfio. Director: Damani Baker. Writer: Cameron Russell. Photography: Andrew Zuckerman. Stylist: Shandi Alexander. Hair: Kevin Ryan. Make up: Jesse Lawson & Fara Homidi. Producer: Cameron Russell & Alex Vlack. Editor: Casey Brooks. Music: Teenage Prayers. Special thanks: Christana Tran & Heather Hughes.